50 Free Ways To Have Fun With Kids
By: Megan C.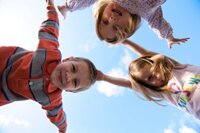 A rainy day, bored faces, don't know what to do? If you're out of inspiration when it comes to fun activities with your children, use this list to pick an activity!
You can also write down the activities on notes and put them in an empty cookie jar: whenever you're kids are feeling bored, you can pick a piece of paper from the jar.
1. Make a website together. There are many places where you can register webspace for free.
2. Bake cookies or a pie.
3. Make a castle or other cool building out of cardboard.
4. Watch a DVD and make lots of popcorn.
5. Perform a play. Your audience can be stuffed animals or, if you dare, grandparents or friends.
6. Play board games.
7. Play soccer, basketball or another sport.
8. Turn off the lights and tell each other horror stories.
9. Prepare a lemonade stand and sell lemonade.
10. Paint each other's faces with face paint.
11. See if you have some Lego lying around and build a huge building with them.
12. Play dress-up.
13. Make hand-painted T-Shirts.
14. Play video games or online games.
15. Write a story or poetry together.
16. Make a comic book.
17. Play hide-and-seek.
18. Make one huge painting out of many little ones.
19. Learn magic tricks.
20. Write letters to family or friends.
21. Make photos of each other.
22. Go out for a picnic. If it's raining, have the picnic on the floor in the living room.
23. Build paper airplanes and throw them out of the highest window you can find.
24. Play loud music and invent a dance to it.
25. Make prank calls to friends and family.
Special Attention

50 Free Ways To Have Fun With Kids
By: Megan C.

Read full article
Featured Articles



Do you want to advertise your website, product or service through www.ReadTheSmiths.com? That's certainly possible!
We work together with a few of the largest ad networks worldwide. Geo-targeted advertising is supported.
If you want us to make you a custom advertising offer, contact us at info@www.readthesmiths.com!

If you'd like to share your article with the visitors of www.ReadTheSmiths.com, we invite you to send us an email with your submission. We'd love to publish it!
You can also write us if you have a suggestion or general feedback. We look forward to hearing from you!