Ads vs. Reality : The Big Fat Lie Of Fast Food Advertising
By: Tom S.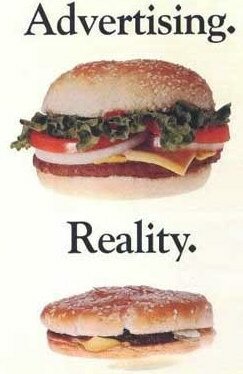 Why is is that fast food always looks better on the photo than on your plate? It's called the big fat lie of fast food advertising, and for some reason we keep falling for it.
Time for an internet classic: check out these comparisons between the advertisement and the real thing. Warning: next time you go to a fast food restaurant, you'll be less compelled to eat.
KFC Famous Bowl
| | |
| --- | --- |
| | |
| On the photo, KFC's Famous Bowl looks decent. | Dog food, anyone? |
Source: Zuzafun
Wendy's Chicken Cordon Bleu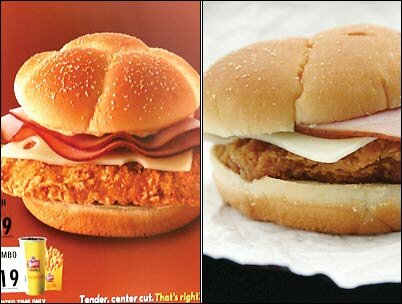 Source: Cassandra Shie, AOL
The Chicken Cordon Bleu doesn't look all that different from the ad. Great job, Wendy's!
Wendy's Southwest Taco Salad
| | |
| --- | --- |
| | |
| Wendy's Southwest Taco Salad looks fresh and tasty. | Ack! Where has the cheese gone? What happened to the green salad? In reality, the Taco Salad looks like scattered liver. |
Source: Zuzafun
Special Attention

Quick and Easy Loan Calculator
By: Robert P.

Read full article
Featured Articles



Do you want to advertise your website, product or service through www.ReadTheSmiths.com? That's certainly possible!
We work together with a few of the largest ad networks worldwide. Geo-targeted advertising is supported.
If you want us to make you a custom advertising offer, contact us at info@www.readthesmiths.com!

If you'd like to share your article with the visitors of www.ReadTheSmiths.com, we invite you to send us an email with your submission. We'd love to publish it!
You can also write us if you have a suggestion or general feedback. We look forward to hearing from you!