Celebrity Plastic Surgery Gone Wrong
By: Julie Michelle Smith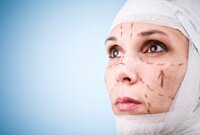 One would think that after seeing Michael Jackson's transformation from cute black kid into pale skinny woman, no sane celeb would still consider having plastic surgery.
The opposite is true: in the superficial world of stardom, aging gracefully is never the rule but always the exception. We've listed a few of the worst plastic surgery jobs on celebs of the last few years.
1. Kenny Rogers
| | |
| --- | --- |
| Before | After |
Oh my God, they killed Kenny! Famous singer Kenny Roger's plastic surgery turned out to be an outright disaster. Apparently Kenny is well aware of the bad surgery himself: in recent interviews he told the reporters that he never intended to look this way.
2. Melanie Griffith
| | |
| --- | --- |
| Before | After |
In 2007 Melanie revealed one of the most awful plastic surgery jobs ever: her skin was taut across the forehead and cheekbones and her lips had the notorious trout pout, making Melanie almost unrecognizable. Melanie just can't seem to accept the fact that she's getting older: over the last few years her facial features have undergone a dramatic transformation.
3. Victoria Beckham
| | |
| --- | --- |
| Before (click to enlarge) | After |
Believe it or not, but when Victoria Beckham was still called Victoria Adams a.k.a. Posh Spice, she was flat-chested and naturally pretty. Her excessive breast implants sure haven't done her any good.
4. Victoria Silvstedt
| | |
| --- | --- |
| Before | After |
Swedish model Victoria Silvstedt is only 31, but extensive plastic surgery and bad lip collagen make her look much older.









Have something to add to this article? Email the author!
Special Attention

The Most Romantic Hotels In Paris, France
By: Julie Michelle Smith

Read full article
Be first to read new articles and subscribe to our bi-weekly news letter.Our mailing list is free, opting out is easy and we don't send spam.
Featured Articles



Do you want to advertise your website, product or service through ReadTheSmiths.com? That's certainly possible!
We work together with a few of the largest ad networks worldwide. Geo-targeted advertising is supported.
If you want us to make you a custom advertising offer, contact us at info@readthesmiths.com!

If you'd like to share your article with the visitors of ReadTheSmiths.com, we invite you to send us an email with your submission. We'd love to publish it!
You can also write us if you have a suggestion or general feedback. We look forward to hearing from you!

This website is run by professional writers Donna Smith (1965) and Julie Michelle Smith (1979) and their families.
Donna and Julie Michelle write mostly about health, travel and beauty related issues, while their husbands, parents and children write about tech, finance and entertainment.