The Most Romantic Hotels In Paris, France
By: Julie Michelle Smith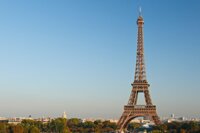 Going to Paris? Make the most out of your stay in the City of Love!
We've listed the five most romantic hotels for you and your partner to enjoy. Bon journée!
1. Pavillon De La Reine
This four-star hotel, in the heart of the Marais district, is hidden behind a large door that gives access to a beautiful city garden. The hotel is located on the Place des Vosges, perhaps the most romantic square of entire Paris. Because of its discrete and beautiful location, the hotel is the favorite destination of (local and non-local) celebrities. The rooms and suites are beautifully decorated, with typically French details.
Price: About 350 euro ($550) a night.
2. Bourg Tibourg
Small, luxurious and quirky: the Bourg Tibourg is a great romantic hideaway for lovers. And since it's in the middle of the Marais district, there is plenty to do in the immediate vicinity, too. The rooms are small but beautifully decorated, with plush soft cushions and dim lighting. If you can, get a room on the upper floor and on the front side of the hotel, so you can have breakfast on the balcony while looking over Paris.
Price: About 160 euro ($250) a night.
3. Des Marronniers
Situated in the lovely rue Jacob in the Saint-Germain district, this three-star hotel will offer you tiny, bright-red rooms and a romantic terrace where you can have breakfast. If you can, get a room on the upper floor, from where you'll have a marvellous view over Paris.
Price: About 100 euro ($155) a night.
4. Murano Urban Resort
Chic, stylish, trendy and expensive: the Murano Urban Resort is certainly not for everyone. But where else can you be in the lively Marais district while watching the stars from your private pool? If you have money to spare, the Murano Urban Resort is definitely worth it.
Price: About 400 euro ($635) a night.
5. Saint Merry
The Saint Merry, a former presbytery incorporated in the historical Saint Merry church, is one of the most historic hotels in Paris. The unique decor is entirely in Gothic style, restored from the 17th century. The three-star hotel is located in the heart of the Marais district, in a pedestrian area, just a few steps away from the Notre Dame Cathedral, the Pompidou-Beaubourg centre and the Saint Jacques tower.
Price: About 160 euro ($250) a night.
Special Attention

Get More Energy After Work
By: Donna Smith

Read full article
N.M.P.L. (www.NearMePayday.Loan) is a free online directory where any US resident can find a profitable loan offer in their city. Urgent loans up to $5,000 are available, for example, in El Cajon CA, Murfreesboro TN, Gainesville FL and other cities and states. The borrower can apply online or find contacts (addresses and phone numbers) of a loan agency located nearby.
Featured Articles



Do you want to advertise your website, product or service through www.ReadTheSmiths.com? That's certainly possible!
We work together with a few of the largest ad networks worldwide. Geo-targeted advertising is supported.
If you want us to make you a custom advertising offer, contact us at info@www.readthesmiths.com!

If you'd like to share your article with the visitors of www.ReadTheSmiths.com, we invite you to send us an email with your submission. We'd love to publish it!
You can also write us if you have a suggestion or general feedback. We look forward to hearing from you!