The Clever Traveler's Ultimate Checklist
By: Robert S.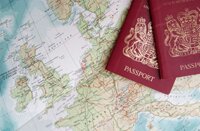 Going on holiday soon? Make traveling a little less stressful: use this checklist when packing your suitcase.
We've also included items that you should take with you if you have a (young) child or if you're taking your pets with you.
(Travel) Documents
Passports
(International) driving license(s)
Tickets
Money
Credit Card / ATM Card
Travel and Health Insurance Documents
Guide Books and Maps
Travelers Checks
(If Required) Visa
(If Required) Birth Certificate / Marriage license
Photocopies of all documents
Addresses and Phone Numbers of Family and Friends
Company Contact Numbers (Mobile Phone/ Credit Card, Insurance/etc.)
Garments
Laundry Bag
Socks
Underwear
Footwear
Trousers / Skirts / Dresses
Shirts / Blouses
Sweaters
Sports Clothes
Swimwear
Rain coats
Hats / Scarves / Gloves
Jackets / Coats
Belts
Basics
Luggage Locks / ID Tags
Camera With Charger and Film or Memory Cards
Flashlight / Nightlight
Travel Alarm Clock
Binoculars
Books / Magazines
Toys / Games / Stuffed Animals for your children
(If Necessary) Diapers / Changing Pad / Plastic Bags
(If Necessary) Wipes / Tissues / Blankets
(If Necessary) Pacifiers / Nipples / Stroller
Batteries / Mobile Phone Charger
Sewing Kit (Checked Baggage)
Writing Materials
Folding Scissors (Checked Baggage)
Travel Iron
Laptop with Charger
Sunglasses
MP3 Player / Earplugs
(If Necessary) European Adaptor Plug
Bottle Opener / Can Opener
Portable Gaming Device (PSP/NDS) with Charger
Toiletries
Comb / Brush
Toothbrush / Toothpaste / Dental Floss
Shampoo
Deodorant
(If Necessary) Rash Cream / Baby Lotion / Baby Wash
Contacts and Contact Lens Preparations
Soap
Shaving Products
Cologne / Perfume
Blow Dryer
Desinfecting Hand Gel
Health
First Aid Kit
Prescribed Medicine
Aspirin
Motion Sickness Medicine
Insect Repellent
Sunscreen / Aftersun lotion
Alcohol Wipes
Lip Balm
Vitamins
Taking your pet with you?
Medications
Kennel / Carrier
Food and Food Bowls
Stain Remover
Litter Box / Scoop
Collar / Leash
Grooming Tools
Bedding
Identification / Recent Photo
Vaccination Records
Before you go:
Check that passports are valid for travel dates
Remember PIN numbers
Cancel any regular deliveries like newspapers
Make sure baggage is sound and lockable
If your pet is not going with you, enlist someone to take care of him
Leave a copy of your documents with someone who stays at home
Water house plants
Confirm Flights
Throw away perishable food (including the food in your fridge)
Turn off all electric devices
Leave your keys with someone who stays at home
Special Attention

How To Avoid Getting Addicted To Online Poker
By: Megan C.

Read full article
Featured Articles



Do you want to advertise your website, product or service through www.ReadTheSmiths.com? That's certainly possible!
We work together with a few of the largest ad networks worldwide. Geo-targeted advertising is supported.
If you want us to make you a custom advertising offer, contact us at info@www.readthesmiths.com!

If you'd like to share your article with the visitors of www.ReadTheSmiths.com, we invite you to send us an email with your submission. We'd love to publish it!
You can also write us if you have a suggestion or general feedback. We look forward to hearing from you!