20 Easy Ways To Make Money Fast
By: Tom S.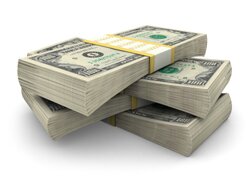 Need money fast? These ideas won't make you a millionaire, but they're great if you need cash as quickly as possible.
The following is a list of twenty easy yet legal ways to make money fast.
1. Host a garage sale or yard sale
First collect all the things around your house that you no longer need. Make an inventory of the items you collected and give them price tags. Set a date and place for your garage sale (choose a sunny day!) and hang signs in your neighborhood. If your display is visually attractive, you'll sell more, so spend a little extra attention to that.
2. Get an easy job
In fast food restaurants such as the Burger King there's always a need for extra personnel. Don't like the smell of greasy burgers? Get a paper route. You can do this in the morning, before the regular workday starts, so you'll still have time for your daytime job or to take care of your children.
3. Do gardening services
There are plenty of people who make money mowing lawns: it's not just a summer job for children. You can also offer to weed or haul gardening rubbish to the dump for extra money.
4. Open a lemonade stand
You can make good money selling lemonade, especially on hot summer days. If you have kids, take them along with you.
5. Panhandle
Don't do this in your own city if you're afraid to be recognized. Wear your oldest clothes and take a sign with you. Try to look poor and sad, but friendly.
6. Sell on eBay or Craigslist
Selling things on eBay or Craiglist can be a great alternative for a garage sale. Research the sites to find out how much things sell for. You can also buy things on one site and sell them for a higher price at the other.
If you see a poor product description on eBay, you can contact the seller and offer to reqrite his description for a small fee.
7. Sell things at a pawnshop
If you had gadgets or jewelry lying around that others might value, you can bring them to the pawnshop. Decide in advance how much money you want to raise: that way the pawnbroker can help you get the amount you need.
8. Become a day laborer
There are employment agencies that specialize in this type of arrangement, and you can get paid at the end of the workday. You can also check your local newspaper or internet classifieds to find quick labor gigs.
9. Give plasma
US law allows plasma centers to compensate donors for their time. It takes about two hours to donate a unit of plasma. You can give plasma up to twice a month. Keep your fat intake low the day before -- fat slows the blood flow, so you'll have to sit there longer.

10. Perform household services
Let people in your neighborhood know that you're looking to earn some extra cash. You can clean houses, bake for people or drive them. Don't be shy to charge a decent rate.
Special Attention

25 Things To Do in Dubai
By: David E.

Read full article
Featured Articles



Do you want to advertise your website, product or service through www.ReadTheSmiths.com? That's certainly possible!
We work together with a few of the largest ad networks worldwide. Geo-targeted advertising is supported.
If you want us to make you a custom advertising offer, contact us at info@www.readthesmiths.com!

If you'd like to share your article with the visitors of www.ReadTheSmiths.com, we invite you to send us an email with your submission. We'd love to publish it!
You can also write us if you have a suggestion or general feedback. We look forward to hearing from you!