Ten Most Horrifying Theme Park Accidents
By: David S.
5. Free fall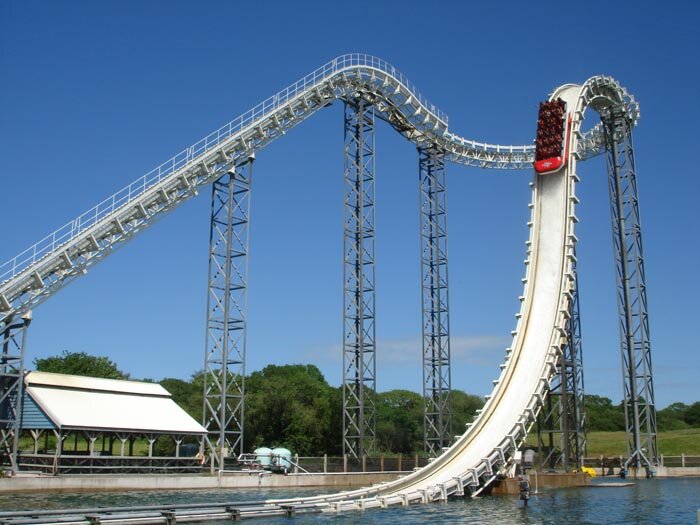 Hydro water rollercoaster
Photo: Theme Park Review UK 2006
Where: Oakwood Theme Park, Pembrokeshire, United Kingdom
Ride name: Hydro water rollercoaster
When: April 2004
Not long after she celebrated her 16th birthday, Haley Williams fell to her death from the hydro ride in Oakwood Theme Park. Standing 121 feet tall, the Hydro ride is just a little shorter than the Niagara Falls. A 24-seater boat drops down a near-vertical chute into a plunge pool at 50 miles an hour. Williams fell over 100 feet.
She had been with her mother and younger sister on holiday at the nearby family's caravan. The ride was closed after Hayley's death, but reopened in March 2005. February 2008 the theme park was charged for park staff not ensuring that guests were properly and safely restrained.
4. For sale: theme park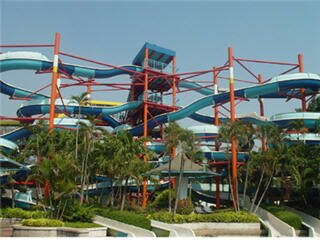 The Super Spiral
Where: Siam Park, Bangkok, Thailand
Ride name: Indiana Log / Super Spiral
When: October 2007 & January 2008
Two serious incidents at Siam Park in Bangkok, Thailand, caused President Chaiwat Leungamornphan to put his theme park for sale. In October 2007, a 35-year-old Thai woman was killed and five others, including a 9-year-old girl, were seriously injured when two boats on the Indiana Log ride collided. A disrupted power supply caused a water pump to fail, so there wasn't enough water to cushion the impact of the boats plunging down from the start of the ride.
January 2008, disaster struck again. Twenty-eight children were injured when a section of a water slide gave way. The slide, called Super Spiral, is three stories high. Some of the children fell through the slide when it collapsed. Victims suffered head injuries, broken limbs, and bruises.
3. King of the hill
Where: Castlerock, Washington
Ride name: Hoppin' Houses
When: December 2007
Even inflatable toys can be deadly. Three-year old Jacob Pierce died at Hoppin' Houses, an inflatable play center in Castle Rock, where he was attending a birthday party.
The toddler was not noticed by two men playing 'king of the hill'. The men rolled down the hill and knocked him unconscious, after which another person landed on his head and crushed his skull. His death was ruled an accident.
2. Severed feet
Where: Six Flags Kentucky Kingdom, Louisville
Ride name:
Superman: Tower of Power
When:
June 2007
For 13-year old Kaitlyn Lasitter the decision to line up for the thrill ride Superman: Tower of Power at Six Flags Kentucky Kingdom, turned out to be a big mistake. While she was on the ride, a cable broke off, swirled around her feet and cut off the girl's legs right below the ankle. Her feet were recovered by staff members and were sent to the hospital with her, but it was too late for her left leg, which was amputated just below her knee. Surgeons were able to reattach her right foot.
The family filed a lawsuit against Six Flags Kentucky Kingdom, claiming the park failed to maintain the ride and ensure riders' safety. The amusement park has denied liability in court filings. During the Tower of Power ride, passengers are raised aloft, suspended momentarily, then pulled down, dropping 154 feet.
1. Decapitated Batman
Where: Six Flags Over Georgia
Ride name: Batman the Ride
When: May 2002 & June 2008
In June 2008 a foolhardy 17-year old boy Columbia, S.C. made international headlines when he got decapitated at the Batman rollercoaster in Six Flags over Georgia. Along with a friend, the teen had jumped over two fences, entered a restricted area, and was apparently trying to grab and hold on to the ankles of the people who were seated on the ride, which was going 50 mph when he was hit.
The boy and his parents were at the park with a group from the Oakey Spring Baptist Church near Springfield. Out of respect for the family the ride closed initially, but was reopened a few days later. It wasn't the first time that Batman the Ride was the scene of a tragic accident. In 2002 a 58-year-old employee was killed when he was in the same restricted area and got struck in the head by a 14-year-old girl, who was seated on the front car of the ride. The teenage girl only suffered a leg injury.
Special Attention

50 Free Ways To Have Fun With Kids
By: Megan C.

Read full article
N.M.P.L. (www.NearMePayday.Loan) is a free online directory where any US resident can find a profitable loan offer in their city. Urgent loans up to $5,000 are available, for example, in El Cajon CA, Murfreesboro TN, Gainesville FL and other cities and states. The borrower can apply online or find contacts (addresses and phone numbers) of a loan agency located nearby.
Featured Articles



Do you want to advertise your website, product or service through www.ReadTheSmiths.com? That's certainly possible!
We work together with a few of the largest ad networks worldwide. Geo-targeted advertising is supported.
If you want us to make you a custom advertising offer, contact us at info@www.readthesmiths.com!

If you'd like to share your article with the visitors of www.ReadTheSmiths.com, we invite you to send us an email with your submission. We'd love to publish it!
You can also write us if you have a suggestion or general feedback. We look forward to hearing from you!