Six Signs You May Be Overdieting
By: Julie Michelle Smith
4. You cannot enjoy a good meal anymore
Whenever you're invited for dinner, you'll make up an excuse why you can't come. Restaurants are a no-go area, and so are most cafés and pastry shops. Your friends invite you over less and less, because they know you won't come anyway.
Solution:
Don't let your social life be the victim of your dietary habits. If you're invited for dinner, let the host or hostess know that you are trying to lose weight. Don't be afraid not to eat everything that's on your plate. If you're still feeling guilty, say it's delicious but too much, and ask if you can have the recipe. You can also share your portion with someone else. In restaurants, order something that seems tasty but is still not too unhealthy. Stop eating when you're full.
5. You have an insatiable hunger, all the time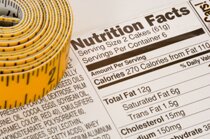 If you're always hungry, it might be an indication that your leptin levels have declined.
You always seem to be craving for food, which makes it much harder to eat healthy. Even right after dinner, you're starving again.
Solution:
If you're always hungry, this might be an indication that your leptin levels have declined. Leptin is an important hormone that helps your body to regulate weight. An insatiable hunger often goes along with a metabolic rate that's much slower than normal. Try to eat more carbs during the day, and also eat some fast-burning carbs like bagels with jam and rice cakes every week. Don't overdo cardio: 45 minutes of cardio, four times a week, is more than enough.
6. You start commenting on other people's eating behavior
When you first started dieting, you were focused on yourself and your own goals. Now that you've achieved your goals, you start criticizing people around you who don't have the perfect figure. When you see a heavy person eating something greasy, you can't help but ask him or her if they know how many calories they just ate.
Solution:
Don't become the person everyone dislikes. You probably remember how tough it was for you to lose weight when you first started dieting. Give advice only when asked for it, and always treat the other person like an equal.
(Sources: 'Diet dangers: here's how to avoid dietary pitfalls so you can keep your muscles and shed fat' by Chris Aceto, The Long slow burn keeps hunger at bay, Bupa.co.uk, Calorie-count.com, thedailyplate.com)
Special Attention
25 Signs You Haven't Grown Up Yet
By: Matthew C.

Read full article
N.M.P.L. (www.NearMePayday.Loan) is a free online directory where any US resident can find a profitable loan offer in their city. Urgent loans up to $5,000 are available, for example, in El Cajon CA, Murfreesboro TN, Gainesville FL and other cities and states. The borrower can apply online or find contacts (addresses and phone numbers) of a loan agency located nearby.
Featured Articles



Do you want to advertise your website, product or service through www.ReadTheSmiths.com? That's certainly possible!
We work together with a few of the largest ad networks worldwide. Geo-targeted advertising is supported.
If you want us to make you a custom advertising offer, contact us at info@www.readthesmiths.com!

If you'd like to share your article with the visitors of www.ReadTheSmiths.com, we invite you to send us an email with your submission. We'd love to publish it!
You can also write us if you have a suggestion or general feedback. We look forward to hearing from you!